Using the Thomas Edison saying again "I have not failed. I've just found 10,000 ways that won't work. "
See : http://www.saturn.lynnautorepair.com/node/210
http://www.saturn.lynnautorepair.com/node/249
http://www.saturn.lynnautorepair.com/node/285
http://www.saturn.lynnautorepair.com/node/304
Well almost 10,000 ways, but now the tachometer is recording the exact revolutions per minute of the DC electric motor.
In the other three posts on this issue I discussed how the tach had its own cluster electronics and used a white signal wire that waited on a signal from the PCM which received its signals from the crank sensor and cam compression sense ignition or CSI, see Original Tachometer on the Electric Vehicle Saturn . So without compression the PCM will never signal the tach an so we had to wire around it.
Gathering information from others and testing and scoping a 1999 Saturn with an ICE I learned alot here at Tachometer Update.
Dave Koller from Wisconsin sent me a homemade signal generator to
: Here for the first time all the gauges on the dash work. On the left is the high voltmeter showing about 145 volts now, next is speedometer showing 51 mph, next is the tachometer showing 3500 RPM and on the right is the ammeter showing an amp draw of about 110 amps.connect to the white tach to PCM wire to see if we could get the tach to work. And it did. See Tachometer Progress, The Needle Moves He then recommended the Cherry speed sensor part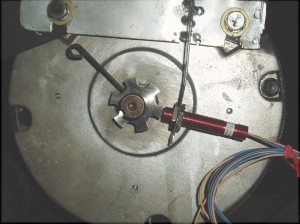 Reluctor Gear and Sensor: This setup with the Cherry sensor # GS100502 which I purchased from Allied Electronics at www.alliedelec.com. Dave also had a machine shop friend build a 6 tooth precision gear.
The gear came in the mail. That night I stayed up late installing it. Had to remove the last attempt for a signal generator using the original Saturn crankshaft sensor, wide home made wide reluctor. Then removed the bracket. Installed the new reluctor gear, welded and drilled, painted another bracket. Had to wire up the Cherry sensor black wire to tach white wire (used a yellow orphaned wire that was routed from inside to near the sensor). Ran the tan wire to 12 volts. Ran the blue wire to ground.