The following three images are part of the process of making a battery box.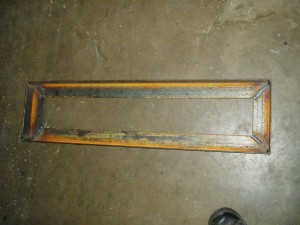 Battery Frame test Fitting The decision on where to place the 6 remaining (of the 18 total needed) batteries that need to go under the hood has been a quandary. Some people like Micheal Drewry at http://glassphoto.googlepages.com/saturnev was able to place Seven of the power pack batteries under the hood, others running 12 deep cycle have as little as 2 under the hood.
These numbers do not include the 12 volt system battery which can be as small as you want. Most end up using the original size battery and location for it. I have not decided as of yet, but will have to now.
Back and forth I measured the spaces available, top and bottom. Each battery measures 7.25″ X 10″ X 11″ tall with terminals. It would be important to place the batteries so to be able to access the caps to check and fill the levels.
Final Answer: Is, to make 2 boxes all in the very front; the lower one the most forward with 3 longwise making the box 32″ wide and 8.25″ deep. I angle ironed the bottom and welded in, took 4 hours.
Saturday I finished the lower box and started on the upper box. With less room available the final dimension 31.3″ by 7.5″. Hood clearance, transmission, access room for the lower batteries, washer tank and original battery location all factored in on upper box location.
I realized one more problem. Although the lower batteries can be accessed to check their levels they could not be replaced with the upper box welded in.
In the end I made this battery frame removable so the lower batteries could be replaced in the future.
Painted all welds and iron.
Sunday
Fabricated hold downs for both forward battery boxes.
Monday
Run out of welding wire. Run to Tractor Supply.