During the motor failure and replacement I looked for a better way to make connections where components could be removed, replaced or tested without cutting wires. I came across this 3 Pin Waterproof Connector on eBay. [[http://myworld.ebay.com/2allbuyer/|I ordered the kit from China]] which came with enough to do 5 connectors ( if you do not damage one of the metal pins when crimping them.
Make sure you use one of the [[http://saturn.lynnautorepair.com/Open%20Double%20Barrel%20Pliers|double barrel pliers]] when performing this job.
Here the armature speed sensor for the tachometer was attached with one of these. Nice thing is there are no butt connectors on both sides as you would have to use with a purchased universal pigtail connector.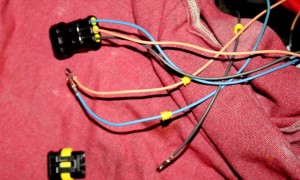 Female plug 26mm x 42mm (about 1.02″ x 1.65″)
Male plug 23mm x26.5mm (about 0.9 " x 1.05 ")
Cable diameter 2.0mm to 2.2mm, AWG 15 to 13
Works great on the small connectors that most crimp on both the insulation and on the conductor wire at the same time. Don't know how I lived without it all these years. Some specifications: Double Barrel Pliers Open Barrel Contacts AWG30-18 Part # 300-009 Solar Series Crimper Eclipse Several die sets available for coax and other connectors. Dies interchange easily fully ratcheted www.eclipsetools.com