Another Saturday, another list.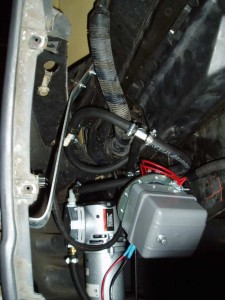 List:
Vacuum Brakes:
Mount pump,
make a bracket with rubber mounts to cut down on noise.
Mount switch
wire switch and pump
Use feed for switch and pump from original fuse box
Install extra check valve
Make and install (mount) vacuum reservoir tank with giant clamp
Install muffler on pump's inlet
Heater, Liquid: Decide on location of under dash or right inner fender
Rear struts and Springs
Gauges
Repair Clutch (pedal goes to the floor)
Organize wiring in looms
Decals and emblems
Vacuum Pump Mounts
When mounting the vacuum pump I used the upper 2 mounts off a BMW that uses them to hold the oil filter housing to the body. The third lower mount came off a shock mount. It was in our junk shelf.
These pumps can be noisy so mounting them in rubber can help a lot. I still need to get a muffler device to install on pump's inlet.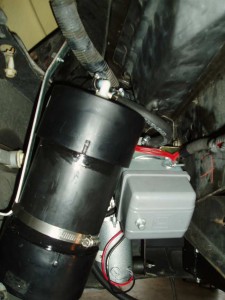 I installed an extra one way check valve in the vacuum line coming out of the pump going towards a tee. The other check valve is
Brake Booster pump
on the booster.

Finished view, ready for the inner fender.
I had to adjust the booster from running too long. The switch was pulling vacuum all the way to 25 inches.
I adjusted the switch to shut off the motor at 19.5 inches. When empty, it took 55 seconds to pull to 20 inches from 0 inches of vacuum. It took 30 seconds to repull 19.5 inches after applying the brake pedal. When applying the brakes, the switch will click after the third time ( around 13 to 16 inches).
The home made reservoir tank is 9.5″ long and 4″ wide, made with Black ABS material.
Reinstall left inner fender, power brakes are ready.