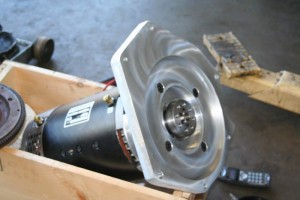 Motor & Adapter & hub The Adapter plate, hub and collar arrived from [[http://www.electroauto.com/|Electro Automotive]]. It took over 6-7 weeks but the parts look good. Nest, assembled the plate on the electric motor.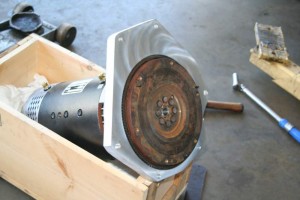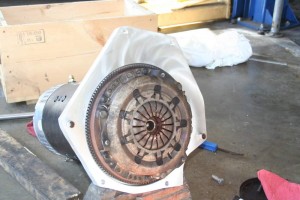 It is important to adjust the hub, that bolts to and uses a wedge or taper-lock to fix a position on the motor shaft. This hub can be moved farther up the shaft or slide out before the position is chosen and locked in place. This position is called the: sweet spot or critical distance or magic number. It is the measurement from the back of the motor to the rear of the flywheel where the clutch disc friction rides.
The flywheel is installed with the original bolts. Then the clutch disc, the pressure plate and then the transmission.
Well I then had to try out the motor now. So I connected a 12 volt battery straight to the motor and let her spin over a few seconds with the flywheel and transmission gears.
Sounds NICE.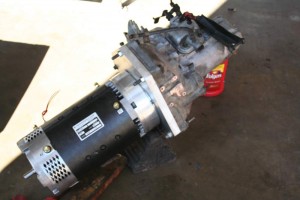 Motor & Transmission TEST