I decided on a compact car, not too small. Then I narrowed it to 3: Ford Escort, Honda Civic or Saturn SL1.
They had to have…..
1. A manual transmission,
2. 4 doors
3. Trunk
4. No rust
5. No body work needed
6. It must run well enough to drive home unless she's close to home.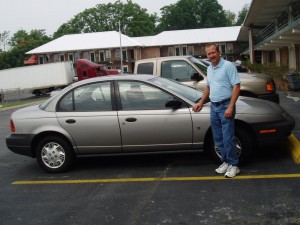 Little does She know major surgery and a transplant is in her future
I bid on a few on EBay and won a 1998 Saturn SL1. It was over 200 miles away. It had over 170,000 miles on it but was in good working order. Will Head at the online car lot http://www.volunteerautodirect.com/ prepared and cleaned up the Saturn so when I arrived it was ready. Driving her home from Lenior City to Jackson TN I thought of 2 things, one she handled and rode nicely and two, being it was a hot July day, I am going to miss air conditioning next summer. Being how I am not planning on running AC with the conversion.